Local artist Joan Steacy launches graphic memoir at Legends Comics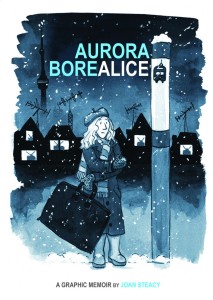 On September 7, 2019, from 12:00 to 4:00 pm, Victoria-based artist Joan Steacy will celebrate her new graphic novel, Aurora Borealice, with an event at Legends Comics & Books.
Aurora Borealice is the story of Steacy's lifelong quest for education. Through her work on this project, Steacy explored her personal journey through alter-ego Alice, a functional illiterate with a creative mind and an astonishing amount of artistic skill.
The story follows Alice as she winds her way through art college, marriage, an art career in Toronto, parenthood, and a move to Victoria. Along the way, she draws encouragement from her partner, Canadian comics artist Ken Steacy, insight from media theorist Marshall McLuhan and mentor Eric McLuhan, and inspiration from Jean 'Moebius' Giraud, and Jack 'King' Kirby.
Since its release, Aurora Borealice has received glowing praise from a number of prominent reviewers. The London Free Press began its review with, "Joan Steacy's Aurora Borealice is pretty much the perfect comic book," while Prism Magazine calls it, "A beautiful and effective literary reality." The book was also featured on CBC's spring list of "10 Canadian comics to read right now."
Joan Steacy is a visual artist who has worked in a variety of disciplines, including sculpture, illustration, and digital painting. A graduate of Sheridan College, The Ontario College of Art & Design, and The University of Victoria, she currently teaches at Camosun College in Comics and Graphic Novels, a program she co-created with partner Ken Steacy.