HOPE NICHOLSON SIGNS BOOKS AT LEGENDS COMICS & BOOKS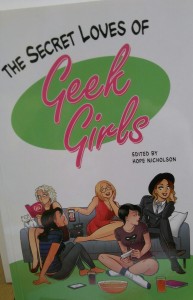 LEGENDS COMICS is proud to present Hope Nicholson, Canadian Writer, Editor, Publisher and Film Producer greeting readers and signing her books on MAY 19 from 3pm to 6pm.
For those who still think comics are for guys only, Hope demonstrates the true diversity of creators and the audience today.
Through her Winnipeg company Bedside Press, Hope released "The Secret Loves of Geek Girls", an anthology of women writers and cartoonists exploring a realm once held sacred by men. Authors include stalwarts like Trina Robbins and Roberta Gregory, new stars like Mariko Tamaki and renowned writers new to comics creation, like Margaret Atwood. Hope is a consulting editor on the upcoming Margaret Atwood graphic novel series "Angel Catbird" (September 2016)
Also appearing at the signing is Victoria writer/artist Renee Nault who is currently adapting "The Handmaid's Tale" as a graphic novel.
Hope Nicholson was Associate Producer of the documentary LOST HEROES, currently on the CBC Documentary Channel. The film is a history of Canadian comic books and their creators from the 1940's to today. Hope further archived the early era of the "Canadian Whites" by editing and publishing hardcover collections of the classic Canadian Comics "Nelvana of the Northern Lights" and "Brok Windsor." Her next reprint collection is "Fashion In Action", the famous 1980s comic.
As owner of the Winnipeg based publisher Bedside Press, Hope focuses on niche comic and sci-fi/fantasy books, including the indigenous comics anthology "Moonshot," and "Love Beyond Body, Space, and Time" (Summer 2016) a prose anthology of indigenous LGBT sci-fi stories
Hope is writing a book on feminist comic book history for Quirk Books.
Hope is organizing the Prairie Comics Festival in summer 2017, and hosts events as part of Geek Girls Social Nights in Winnipeg.