SATURDAY APRIL 30, 2016 IS CANADIAN AUTHORS FOR INDIES DAY!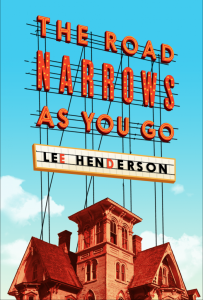 On Authors for Indies Day, Canadian authors show appreciation for independent bookstores by volunteering as guest booksellers.
This year on April 30, authors will be chatting with customers, recommending books, and helping everyone appreciate the importance of indie bookstores to our communities and our cultural lives.
LEGENDS will be hosting LEE HENDERSON.
LEE has published two award-winning books with Penguin Canada — the story collection The Broken Record Technique and the novel The Man Game, which won the BC Book Prize and the Vancouver Book Prize in 2009. Regularly published in The Walrus and Border Crossings magazine, LEE has ALSO curated exhibitions of contemporary art and experimental music.
His most recent novel is THE ROAD NARROWS AS YOU GO, the story of Wendy Ashbubble who travels from B.C. to San Francisco in the 1980's to join the underground comix scene. LEE himself draws her comic STRAYS, excerpted throughout the novel. Sean Rogers wrote in The Globe and Mail "Henderson has contributed his own, outsized, rambunctious myth to the annals of comics, and of our literature."
LEE is an Associate Professor and Director of Professional Writing Minor in the Writing Department at the University of Victoria. He teaches a class in writing comics.
LEE is a great consumer and raconteur of comics and is sure to enhance this celebration of the people who bring you the books you love to read.
http://www.authorsforindies.com/